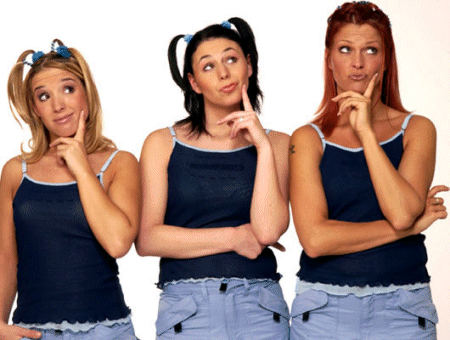 K3

is a Flemish/Dutch girl band with a Dutch repertoire, mainly aimed at pre-adolescent children. The name of the group is derived from the names of the three original members: Karen Damen, Kristel Verbeke and Kathleen Aerts. Their music is produced by production company Studio 100 and is written by Miguel Wiels, Alain Vande Putte and Peter Gillis. K3 was founded by Niels William.
The band became famous without any airplay from the regular music television channels like MTV, instead marketing directly to children via children- and cartoon-channels.
Their signature is that the girls in the group all three mostly wear the same outfit. The band is mostly known as one of Europe's biggest acts and longest running girl band and their famous for their poppy-happy songs and K3 dances.
Personally i think these dolls are genius i haven't dress them up yet, will you guys?